Yoga Camp!
Posted on Saturday 12 May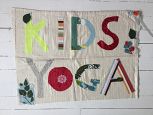 Yay, just one week to go and we will be at Yoga Camp in Sussex. I'm keeping up the Sun Salutations this week in an attempt to keep the weather good 🌞 though whatever the weather we will be sure to have loads of fun! 
I'll be doing a family class for the under 7s, this is a lovely way for parent and child to do yoga together, lots of fun and learning ways to be still and calm too. 
There will also be 7-11s, where we are sure to have some funky tunes, some partner poses, some yoga games and a bit of time chilling. This age group are often very imaginative and I use a rather free flow style of teaching, led by the needs of the group. The over 11s will be suited to their needs, still assured of fun and relaxation too. 
Each age group has different needs and it's so lovely to be working across the spectrum of ages. Having done my 200 hr adult yoga teacher trying too, I'm loving teaching grown ups too. I keep my playful style, it's good for all of us to have a bit if fun and not take life too seriously. 
Hope to see you there, do pop by and say Hi x