Yoga for tweens and young teens...
Posted on Tuesday 07 June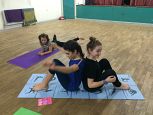 The new class at The Hive in Stoneham Park is going well on a Wednesday afternoon. We meet from 5-6 for an hour of yoga, meditation and mindfulness. We chat a lot about whats going on, giving the kids a chance to share what is important to them. We practice our poses, on our own, in partners and often as a whole group - building shapes and stretching both our body and our imagination. We play...they may feel 'grown-up' but we do have a lot of fun playing yoga games too. Then we rest: usually cosy under a blanket, with guided imagery or similar to finish the class with relaxation. 
Empowering youngsters to be the best and happiest version of themselves, equipping them with skills to cope with everyday life. This class is suitable for 11/12 years old and over
Get in touch for more details